Chiropractor
Laura Stone D.C., C.A.C.C.P., M.S.
DR. LAURA'S CHIROPRACTIC JOURNEY
Started as a young girl being thrown off of her dad's motorcycle. No real visible signs of "injury" and life carried on.  During some high school softball drills, all of a sudden, paralyzing low back pain ensued.  Without hesitation, she started chiropractic care and was back to "normal" in a few weeks.  Despite pain relief, she noticed lessened stress and improved body function when she was adjusted.  She's been a wellness patient ever since.
DR. LAURA'S CAREER PATH
Growing up, she loved science.  As a respiratory therapist for several years, she found much joy caring for patients in the healthcare setting. After losing her father to chronic illnesses at the young age, her career took a sharp turn.  She witnessed firsthand the debilitating effects of taking two shoeboxes of medicine and started to seriously question treating symptoms only with prescription drugs. 
A lover of nature, animals and deep amazement of the human body and how it works, she shared her learned information to anyone who would listen.  A career in science education would become her route.  After earning both Bachelor and Master's degrees in Biology (ask her about turtles), she was eager to start teaching in higher academia.  During Anatomy and Physiology class, a few chiropractic students came to her classroom and taught about x-rays and what a chiropractor does.  Even though this was intended for her students, she was focused on every detail.  In depth scientifically driven questions to her chiropractor, Dr. Larry Troxell became deliberate and there grew a burning desire to become a doctor of chiropractic herself.
Dr. Laura earned her doctorate degree from Palmer College of Chiropractic-Davenport, IA., in 2011, with Cum Laude honors and over 100 hours of study in the Gonstead technique. 
PASSIONATE ABOUT PREGNANCY & PEDIATRICS
Thanks to chiropractic care, Dr. Laura and her husband were able to conceive and deliver two healthy boys. Her children Brock and Cole, and husband Eric have spearheaded her work.  Both boys were born under two extremely different birthing experiences. Despite their bumpy entrances, Dr. Laura was able to apply her knowledge of precision adjusting and as a result, they have two amazingly healthy boys – and Dr. Laura has a passion to help with prenatal and pediatric care. 
Dr. Laura earned her certifications in Pediatrics and the Webster Technique from the International Chiropractic Pediatric Association.
HELPING CHILDREN WITH SPECIAL NEEDS
While taking care of patients of all generations, Dr. Laura is passionate about caring for pregnant moms, children and children with neurodevelopmental disorders.  Early detection of neurodevelopment disorders is critical for the pathway of a healthy functioning nervous system.  Dr. Laura welcomes those with ADD/ADHD, Autism, Sensory Processing Disorder and other neurological conditions to receive care through her "Empower U" program.
LIFE OUTSIDE OF THE OFFICE
When Dr. Laura is not physically at the office, she likely at home juggling studying and her wife/mom duties.  She loves spending time with her husband and their two boys, hanging out with many feathered and furry farm animals, learning and implementing regenerative farming practices, exploring the woods, playing in the dirt while gardening or at the baseball diamond and eating tacos!
OUR COMMITMENT
Yearning to care of those in our community since June, 2012. The doors were opened at Family First Chiropractic Center, with the dream of becoming a trusted family health resource in the area.  Every decision made at Family First Chiropractic Center has been based on how we can best serve our community as their trusted family health experts.
It's our commitment to give each and every one of you the same level of attention and care that we give our families.  The families that come to Family First Chiropractic Center are just that, FAMILY.  We take your trust and care very seriously.  Thank you for the opportunity to care for you and your entire family.  
Chiropractor
Emily Gaudet, D.C.
LIFELONG CHIROPRACTIC PATIENT
Chiropractic has been near and dear to Dr. Emily's heart since she was just a few years old. Her mom would take the entire family to her local chiropractor if they started showing signs of minor illness along with general wellness care. Their chiropractor was also there for all the bumps and falls she received while playing sports throughout her lifetime.
EDUCATIONAL BACKGROUND
Dr. Emily completed her Bachelor of Science degree at Ashford University, Clinton, Iowa, with a major in Biology and minor in Chemistry.  After graduating, she worked in a lab setting for a year and realized, "I want to become a chiropractor!" and enrolled at Palmer College of Chiropractic.
With much support from God, family, and friends, she graduated from Palmer and returned to her community in Port Byron, IL, and started caring for all generations of patients.  While caring for a diversity of patients, she also can choose a technique that best suits the patients' unique needs.  Dr. Emily utilizes Gonstead, Diversified, Thompson, Toggle and Activator techniques.  She is also certified in the Webster's Technique to care for women throughout their entire pregnancy and loves to welcome their new little ones.  Dr. Emily continues to strive to learn more and is furthering her education in this patient population through the ICPA (International Chiropractic Pediatric Association).
JUST FOR FUN...
When not in the office, you can find Dr. Emily spending time with her fiancé, Chase, reading, playing pickleball or aimlessly roaming around Target.
Her favorite foods are: Mediterranean salads, sushi and Happy Joe's Pizza!
Dr. Emily is excited to be a part of our family and looks forward to caring for you and your family through chiropractic care.
Office Manager
Shelly Roys
Shelly joined the FFCC team as an office manager in 2020 and serves many roles in order to help the office run efficiently. First as a practice member, and now office manager, Shelly is passionate about creating a personal relationship with each person who joins the FFCC family. She loves the positive environment as she notes, "Healthy people are Happy people" and loves to see the smiling faces all day long.
Shelly was born and raised in LeClaire, Iowa, where her and her husband continue to live and they have two wonderful adult sons. Their family has always been under chiropractic care as it helped through sports injuries/prevention, weekend warrior projects and maintain their function and overall health.
Through a battle with sinus pressure, drainage and headaches, she had her food sensitivities tested at the office. With that valuable information, chiropractic adjustments and nutritional supplements she has kept the episodes away.
When Shelly isn't at FFCC, she can be found walking all over the streets of LeClaire with her husband and dog "Mabel," gardening and doing projects around the house and for others.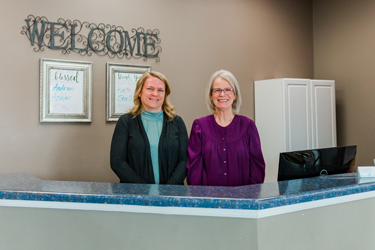 Billing Specialist and Front Desk Assistant
Cindy Terronez
Cindy joined our FFCC team as a Billing Specialist and Front Desk Assistant in 2019. First as a practice member and now as a team member, Cindy values being surrounded by a positive team environment and others who enter the office seeking care and a friendly smile. She loves to engage with others as we welcome each member into our chiropractic family.
Through a previous career working at a desk job, Cindy began having neck, shoulder and arm numbness. She was referred to Dr. Laura by her daughter, and was certainly impressed with the thorough assessment and x-rays which pinpointed to the cause of her symptoms. She began her chiropractic journey which included specific chiropractic adjustments, other educational pearls and over a small period of time, her numbness was gone! She has much less pain and increased function through continuing her chiropractic wellness journey in order to maintain her overall health, as she goes through a healthier aging process.
Cindy also looks forward to welcoming new wellness families as she switches hats and becomes a surrogate "Grandma." She LOVES holding babies while their mommies and siblings get adjusted. While the baby gets adjusted, she loves to help big brother/sister who may be just learning to crawl or walk. Cindy can also be found opening a treasure chest for their much earned "treasure" after a great adjustment.
When Cindy is not at FFCC, she loves hiking and bike riding with her husband Darrell, sewing and walking her grand dog "Titus," spending time with her family and eating chocolate!
OFFICE HOURS
---
Monday
9:00am - 6:00pm

---
Tuesday
Closed
---
Wednesday
9:00am - 4:00pm
---
Thursday
9:00am - 6:00pm
---
Friday
Closed
---
Saturday
Closed